Hoya griffithii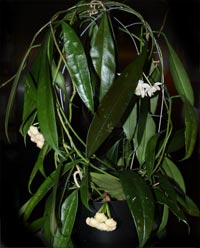 This is a hoya I very much want to have flowers on. In the end of my vacation this summer I decided to give my hoyas downstairs a long awaited shower and I was just about to grab hold of the H. griffithii and haul it into the bathroom when I saw a tiny bud. The showering project was abandon along with the window cleaning and a very long waiting started. I kept my fingers crossed that the flowers would open for my hoya meeting on the 18th of September but two weeks before the buds dried up and dropped.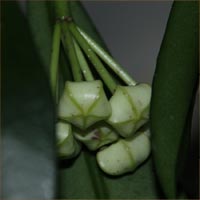 A new set of buds immediately started growing and they opened on the 13th of October or may even have been on the 12th. I realised as soon as I stepped into the room when I detected the fragrance. I find it very difficult to describe it but it's a rather strong scent that almost resembles hyacinths or something. Along the way I realised that I had not only one but three buds and they all made it.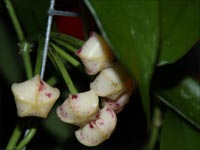 The bud closest to the window was spotted in red but the flowers are a pristine white colour when they open. They stayed open for 13 days, which made me very pleased. Each flower is fairly big, about 2.5-3 cm across. I actually have four different plants of this hoya that are perhaps only two different clones in reality. I bought one as Hoya sp. Vietnam and the second as a confirmed H. griffithii and they are most likely the same.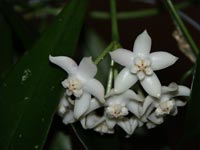 The third clone is the yellow clone from Botanova and the fourth another yellow clone named LT08-025 and I haven't been able to find out if they are perhaps the same. . The leaves of all four of them look very much the same. They are dark green with few silver spots. The only difference so far is that the yellow clones seem to grow slightly thicker fleshier leaves. The leaves on average are 14 cm long and 2.5 cm wide but some of them are as long as 21 cm.