Hoya curtisii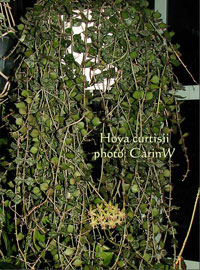 The Hoya curtisii is probably a crawling plant more than anything else. The stems have pronounced aerial roots at each node and given the opportunity it will easily stick to a painted surface. I normally put 3-5 cuttings in a pot for the hanging hoyas and then try to prune the stems as they grow in order to make them branch out. Most hoyas do that reluctantly but this hoya hasn't needed much encouragement.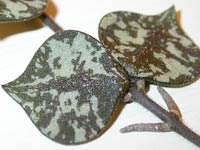 The leaves are very small - only 1,5 cm long and equally long and they are a very dark green that easily turn red if it's grown in a too sunny spot and they are covered in lovely silver spots. The stems on my plant have twined together and formed a thick thatch that is impossible to untangle and makes it quite difficult to take cuttings from the plant.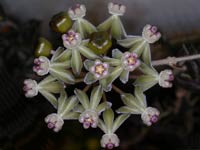 The peduncles are invisible from the beginning when there are no buds and a couple of them are hidden inside the tangle of stems. Only when the buds have grown rather large is it possible to see them. The flowers are fairly big compared to the leaves – nearly the same size. The scent resembles that of balm or Melissa officinalis. It's a fresh fragrance that lingers in the air at night.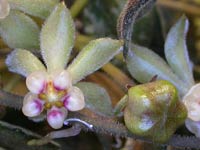 The buds look like small green apples and the flowers look like they are wrapped in pale green fur. This hoya is said to thrive in cool temperatures. I have two plants and one of them hangs in a window in a room that is kept rather cool but the other plant grows on a the side of a desk close to artificial light which is the warmest area in the house and it has flowered although not as frequent as the plant growing cool.